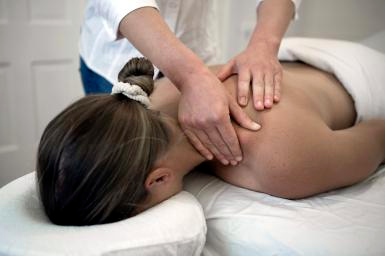 Deep Tissue Massage
Deep tissue massage is a type of massage therapy that focuses on realigning deeper layers of muscles. It is especially helpful for chronic aches and pains and contracted areas such as stiff neck and upper back, low back pain, leg muscle tightness, and sore shoulders. The movement is slower and the pressure is deeper and concentrated on areas of tension and pain in order to reach the sub-layer of muscles and the connective tissue surrounding muscles.
Techniques
When there is chronic muscle tension or injury, there are usually adhesions (bands of painful, rigid tissue) in muscles, tendons, and ligaments. Adhesions can block circulation and cause pain, limited movement, and inflammation.Massage therapists may use fingertips, knuckles, hands, elbows, and forearms during the deep tissue massage. You may be asked to breathe deeply as the massage therapist works on certain tense areas.
Benefits
Deep tissue massage works by physically breaking down these adhesions to relieve pain and restore normal movement. To do this, the massage therapist uses massage oil and often uses direct deep pressure. Muscles must be relaxed in order for the therapist to reach the deeper musculature. Deep tissue massage usually focuses on a specific problem, such as chronic muscle pain.
What Can I Expect During My Visit?
Before the massage, Let the therapist know about any injuries or other conditions that he or she should know about.Things you would want tell a therapist include areas of tightness or pain, allergies, and conditions like pregnancy. You can also tell them upfront if you have a preference for light or firm pressure. It's best not to get a massage if you are ill and make sure to consult your physician first.
Pricing:
$95
60min
$80
60min (first time visit only)
Check in at HaloMari on Yelp
Book Me